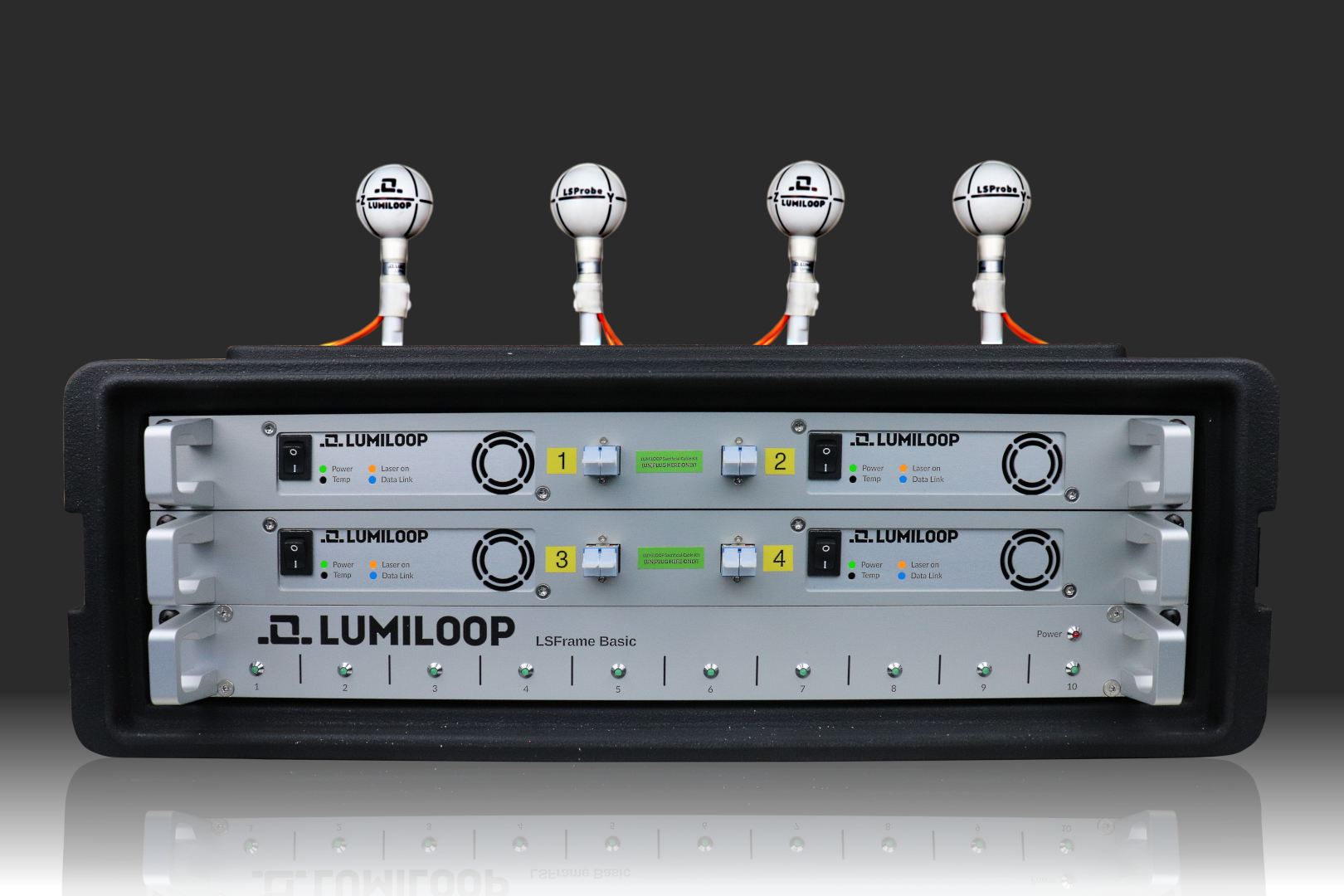 LSProbe – Laser Powered E‑Field Probes
The miniaturized LSProbe E‑Field Probes ensure unattended, uninterrupted measurements combined with high resolution, high speed, and low noise over the entire test period.
With the galvanically insulated power supply, the need for batteries is now eliminated. The field probes do not only measure average values but the time course of fields. With an unprecedented wide dynamic range and fast pulse response, LSProbe provides the user completely new measuring options.
LSProbe allows for a higher efficiency through faster, shorter, and lower-cost testing intervals.
Two different Laser-Powered E-Field Probes are available:
LSProbe 1.2
10 Hz – 8.2 GHz
LSProbe 2.0
9 kHz – 18 GHz
The LSPM Triple High-Speed Power Meter is a three channel, high speed, high accuracy, and high dynamic range RF Power Meter.
Compensation of linearity, frequency and an actively controlled power sensor temperature guarantee accurate measurements from less than ‑75 dBm to at least +12 dBm. A dynamic range of >80 dB is achieved for many frequencies.
Advantages
High sampling rate allows for high resolution time-domain signal analysis.
Synchronize with signal generators to realize high resolution pulse analysis.
Accelerates standard EMC measurements by facto 100!
Triple High-Speed Power Meter Models
LSPM 1.0
LSPM 2.0
LSPM 1.1
LSPM 2.1
LSFrame – Multi Device Systems
LSFrame is LUMILOOP's solution for straight-forward and reliable integration of one or more LUMILOOP products in a LAN-controlled, standard 19-inch form factor appliance.
LSProbe Stands and Positioner
The LSProbe Floor Probe Stand allows for mounting single and multiple LSProbes in different heights, defined in the international standards.